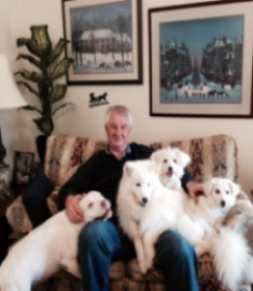 Hi! Thanks for visiting our webpage all about Terry Adcock.
Books on the left are by Terry Adcock. Click on the book cover to purchase.
ABOUT THE AUTHOR
They Call Me Ms. is Terry Adcock's first foray into the detective genre featuring Vic Carella, a confident, no-nonsense investigator who adapts to wildly changing situations, and outmaneuvers her adversaries at every turn while facing personal danger. Vic Carella overcomes stereotypical norms that would easily defeat characters of lesser resolve.

Terry also penned the murder mystery-comedy, Swept Away By Murder, a stage play in two acts that pays homage to the classic whodunits from the Golden Age of Mystery. The story is set in a traditional English country house inhabited by quirky, but devious characters, each with deep resentments and hidden agendas.

As a retired senior management professional with over forty years of experience in the Information Technology industry, Terry's creativity extends to entrepreneurial endeavors such as veteran-owned business start-ups, and as an inventor with multiple patents to his name. He now turns his creativity to writing detective fiction and the stage to offer a brief glimpse into two distinct worlds inhabited by strong female protagonists who combat the evil forces threatening their lives.

Terry and his wife, Barbara, live in the Washington D.C. metro area where they enjoy the company of their five cats and three dogs. Together, they travel the eastern shores exploring interesting destinations and making new memories.

Thanks for visiting!