Author Bio: Angie Vancise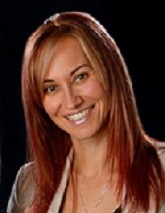 Hi! Thanks for visiting our webpage all about Angie Vancise.
AUTHOR'S WEBSITE
Angie Vancise is a visual artist and a graduate of the University of Toronto's creative writing certificate program.
At a young age, she saw herself writing a book. It was a dream she kept hidden from everyone until after her beloved older brother passed, then her dad, then her mom, all in the space of 3 years. All through these tragedies over the past 6 years the only thing that kept her sane was writing, and from there the semi-autobiographical novel Cry of an Osprey was born. She also painted the book's cover.
Angie grew up in a small former shipbuilding town two hours north of Toronto, Canada, on Georgian Bay. In the early 1800s, six generations ago, the first Vancises emigrated from Holland and began farming in the shadow of the Niagara Escarpment.
Angie lives there still, with her husband and daughter, five cats and two dogs. Animal Speaks, by Ted Andrews, rests next to her bed. Some of her brother's ashes were released to fly free from Flowerpot Island, off the coast of Tobermory on the Bruce Peninsula, a place he had come to love. She is now at work on two more books – one a mystery (which she has always seen herself writing) and the other a memoir.
Thanks for visiting!