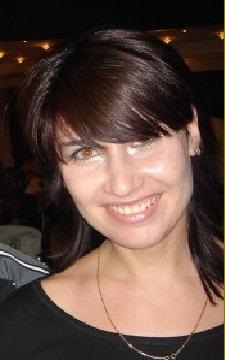 Hi! Thanks for visiting our webpage all about Leyla Atke.
Books on the left are by Leyla Atke. Click on the book cover to purchase.                     
Leyla Elena Atke was born April 7, 1977 in Baku, Azerbaijan (former Soviet Union). She is an Orthodox Christian. Her Russian grandmother Ludmila (from father´s side) is a direct descendant of Russian Tsar Boris Godunov on the maternal side.
As a child, Leyla loved reading books. She read so much as a child that it impaired her vision. She had to stop reading for a while to restore her eyesight. She read more than 1,000 books. Some of her favorite authors are Alexandre Dumas, Victor Hugo, Jules Verne, Maurice Druon, Lev Tolstoy, John Wyndham and many others.
She holds Master´s Degree with honors in International Economic Relations from Baku Business University. Leyla was also honored as one of the best students of Baku Business University. Leyla had several academic publications about international economic relations during her 6 year study.
As a daughter of a professional journalist and chief editor of the oldest oil newspaper in Azerbaijan, Leyla started her professional career as a journalist and correspondent of the Department of International Life at the social-political newspaper Vyshka (in Russian). This is where her writing talent began to form. Leyla has many publications in the newspapers pages about the activity of foreign oil & gas companies. However her first publication about horses was published in the Yurdash newspaper and was a huge success. Leyla wrote her first book-game when she was fifteen. However, it was lost and forgotten for many years. Now that it has been found, it is Leyla's hope to finish and publish it one day.
Leyla continued to work at the State Oil Company of Azerbaijan Republic (SOCAR) as a Specialist of Contracts section of the Foreign Investments Division where she worked for 6 years. She has been on business training at ExxonMobil Baku & Houston offices for one year. Leyla worked as a PA to the Ambassador at the Romanian Embassy to the Republic of Azerbaijan. Her scope of responsibilities included verbal & written translations, press reviews and personal administrative support to the ambassador. She speaks 6 languages fluently: English, Russian, Danish, German, Turkish and Azerbaijani.
Leyla was quite physically active in her twenties. She played some tennis. In 1999, she became a 3rd racket of Azerbaijan. In 2000, she was awarded as a Lady of Tournament of SOCAR Cup Tennis Tournament. Leyla is a former member of Azerbaijan´s Bodybuilding & Fitness team. She participated in World Women Bodybuilding & Fitness Championships in Brazil, Rio de Janeiro in 2001; and European Women Fitness & Bodyfitness Championships in Ukraine, Yalta in 2005.
In 2002, she became a champion of Azerbaijan on Bench Press.
In 2009, Leyla moved to Odense, Denmark. She married the director of a building company Peter Atke on November 14, 2009. They have a son together, Michael Atke (born 11.12.10). Being in Denmark, she published her book in the USA in September 2010. In Denmark she earned BA in International Sales & Marketing from Tietgen Business College in Odense. Her famous black cat Charm lives together with her in Denmark.
Leyla is an environmentalist and animal lover. She is an active member of WWF – she signs different petitions urging world leaders to protect the wild nature. She adopted many homeless kittens and found owners for them while living in Baku.
Leyla Atke is an award-winning author. Her book Charm: An Amazing Story of a Little Black Cat was honored as a Finalist in Children´s Non-Fiction category of International Book Awards and as a Finalist in Animal Non-Fiction category of Readers Favorite in 2012.
Charm: An Amazing Story of a Little Black Cat was exhibited on Beijing 2011 International Book Fair and Book Expo America, New York in 2012. It is currently listed live on USABookNews.com LISTING PAGE
Charm: An Amazing Story of a Little Black Cat is the gripping account of a remarkable experience in author Leyla Atke´s life. It is a story that tells how things are hard to acquire and easy to lose when even slightly neglected. It is a story that makes the reader think about the existence of a higher power and the other world. It is a story about how anyone can be entrusted a certain mission from above…Or simply, it is a story about a miracle… And as an Orthodox Christian, she believes in God and miracles.
Leyla´s hobbies include archeology, fitness, tennis & cooking.
View Video About Charm: An Amazing Story of a Little Black Cat